Covid-19 led to the cancellation of large numbers of fashion events, but the industry proves that the show must go on.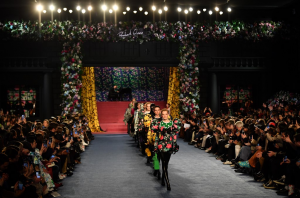 Fashion Weeks going digital
The presentation of the 2021 spring-summer men's ready-to-wear collections will go ahead in London, Milan, and Paris, but in a major break with tradition the shows will be accessible via dedicated internet platforms and will be entirely online. As to the details, the British Fashion Council has decided to present both men's and women's wear via a single platform for London with a first session scheduled for June 12-14. The Camera Nazionale della Moda Italiana has chosen to hold a 100% digital Milan Fashion Week July 14-17, which will feature both men's collections and women's pre-collections, and the French Fédération de la Haute Couture et de la Mode has announced an online Parisian Men's Fashion Week July 9-13.
Online haute couture shows
Some three weeks after it announced that there would be an online Men's Fashion Week, the Fédération de la Haute Couture et de la Mode made a decision to maintain its Haute Couture Week with an online event to be held July 6-8. Once again, this will involve the provision of a dedicated online platform to enable the fashion houses on the official calendar to submit presentations on their new collections "in the form of creative films or videos." The Fédération has also pointed out that in spite of the exceptional circumstances the principle of the official calendar will be maintained.
Hyères Festival postponed until October
Initially scheduled for April 2020, the 35th edition of the International Festival of Fashion, Photography and Fashion Accessories in Hyères will finally be held October 15-19 in its usual venue, the Villa Noailles. The organizers have indicated that the program will not be modified and that "exhibitions will exceptionally remain open until November 29, 2020." Intended to promote young designers and artists, the Hyères Festival awards prizes in the fields of fashion, photography and fashion accessories.
Pitti Uomo will be back this fall
The leading men's fashion fair, which usually plays host to a number of catwalk shows, has also suffered from the global health crisis. Initially scheduled for June, the Pitti Immagine Uomo will finally be held September 2-4, over three days instead of the usual four. The fashion world will meet in Florence for a series of exhibitions as well as presentations of new men's collections from a selection of houses and designers.
---
---